Situated within the picturesque Tallebudgera Valley, a childhood dream was magnificently brought to life in this impressive rural residence by Lea Design Studio. Creating a contemporary interpretation of a lodge that sits harmoniously within its bush setting, this Gold Coast custom home incorporates all the key elements of a mountain chalet – a style aesthetic admired by the client.
The design process for architect John Lea began by carefully reviewing an existing plan that fell well short of the client's expectations – revealing a lack of consideration for both the natural landform and for functionality. In addition to this, there was considerable opposition to the client's desired multi-storey vision by a neighbouring property, despite the proposed home being entirely hidden from public view. Avoiding an expensive and challenging approval process, an inspired design was developed which incorporates terraced levels that take full advantage of the natural topography of the site. The clever design minimised the requirement for costly excavation and retaining and achieved an impressive multi-level home at the southern end.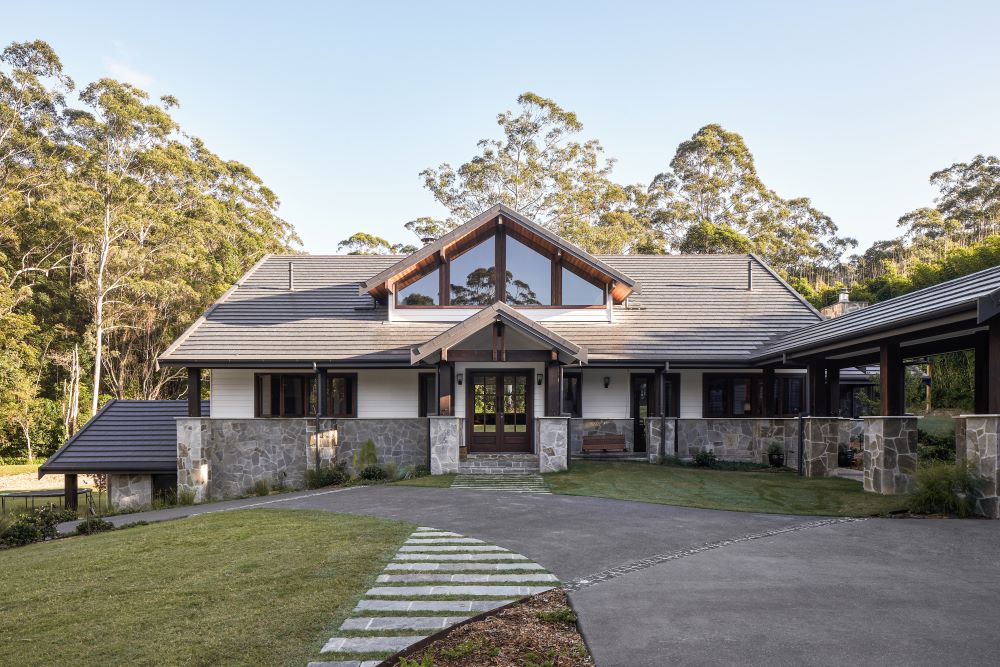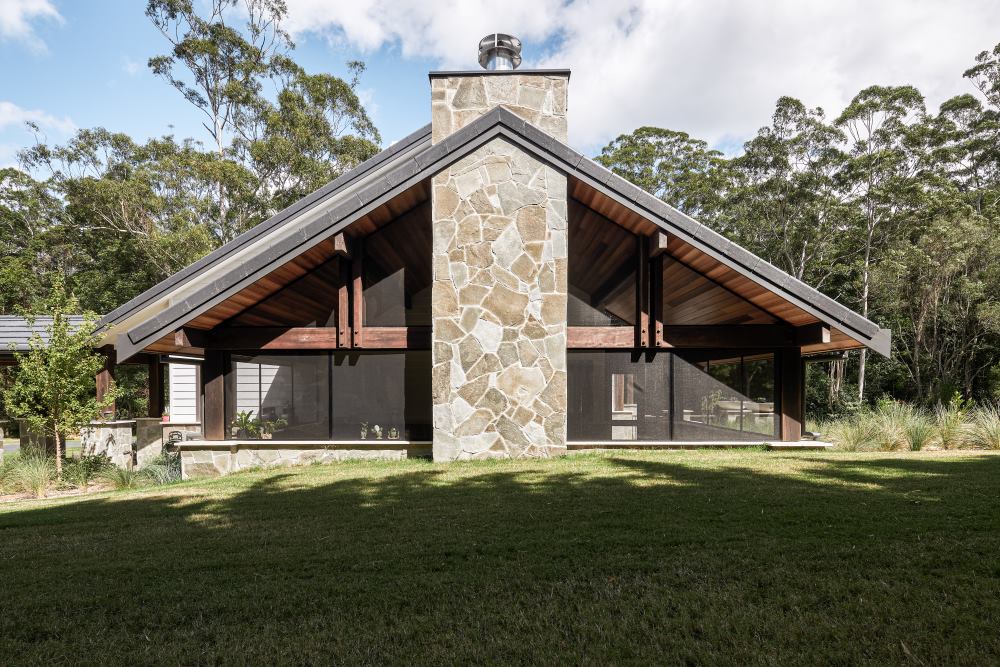 Throughout the project, a commitment to natural materials was paramount. Spotted gum timber was sourced from a local mill, ensuring that every connection was meticulously crafted, concealing bolts and leaving no visible nails or screws. Stonemasons spent months meticulously laying the exquisite Arenisca stone cladding and paving, which adds depth and a rustic character to the home's striking exterior.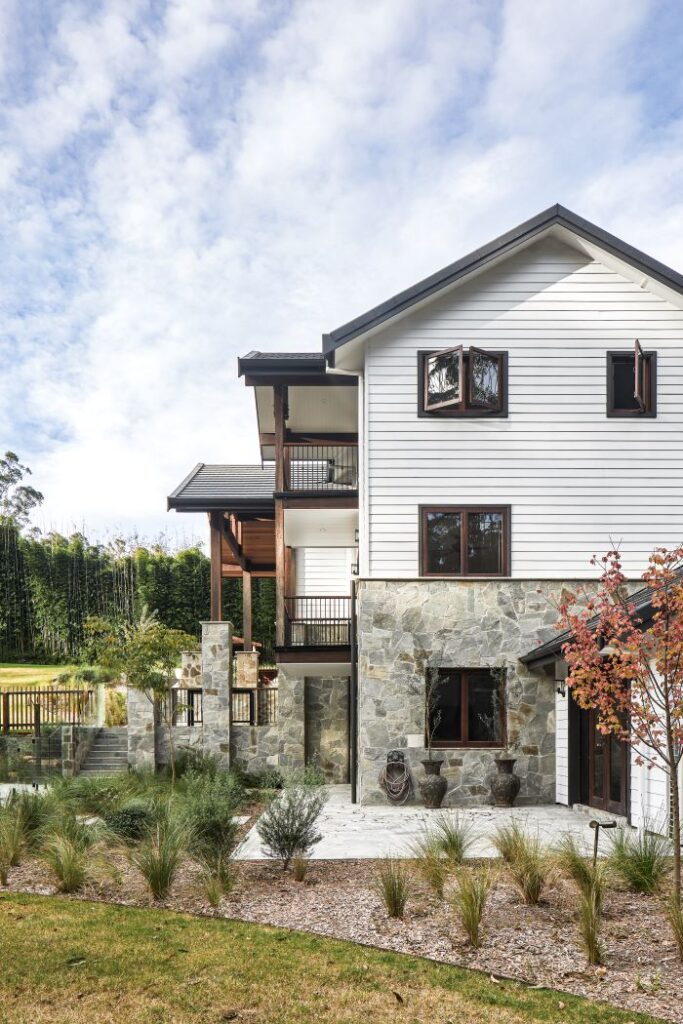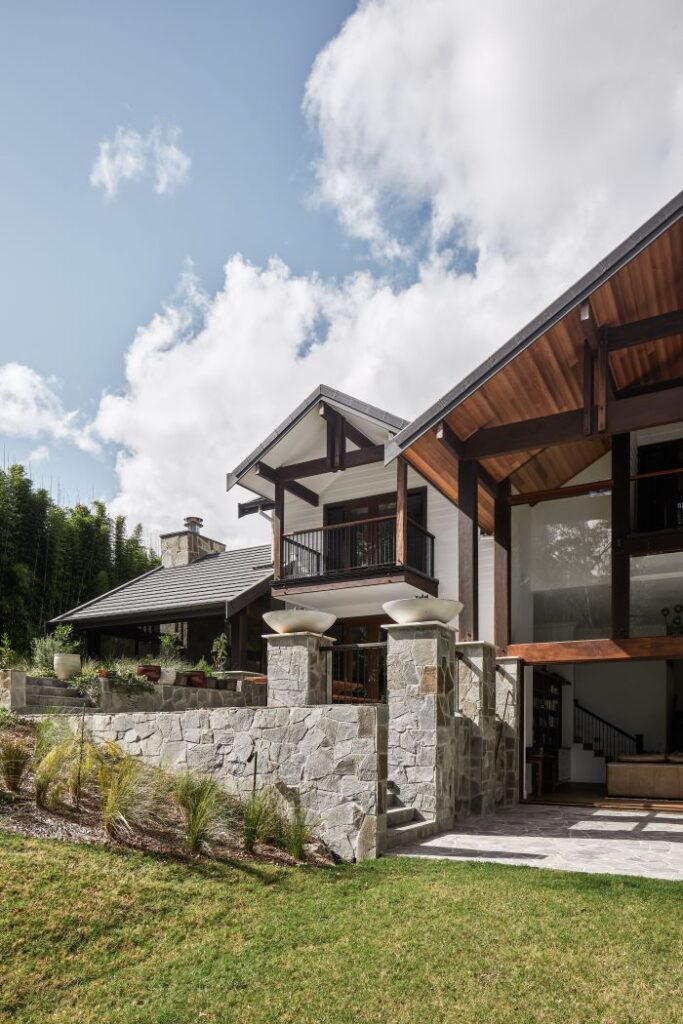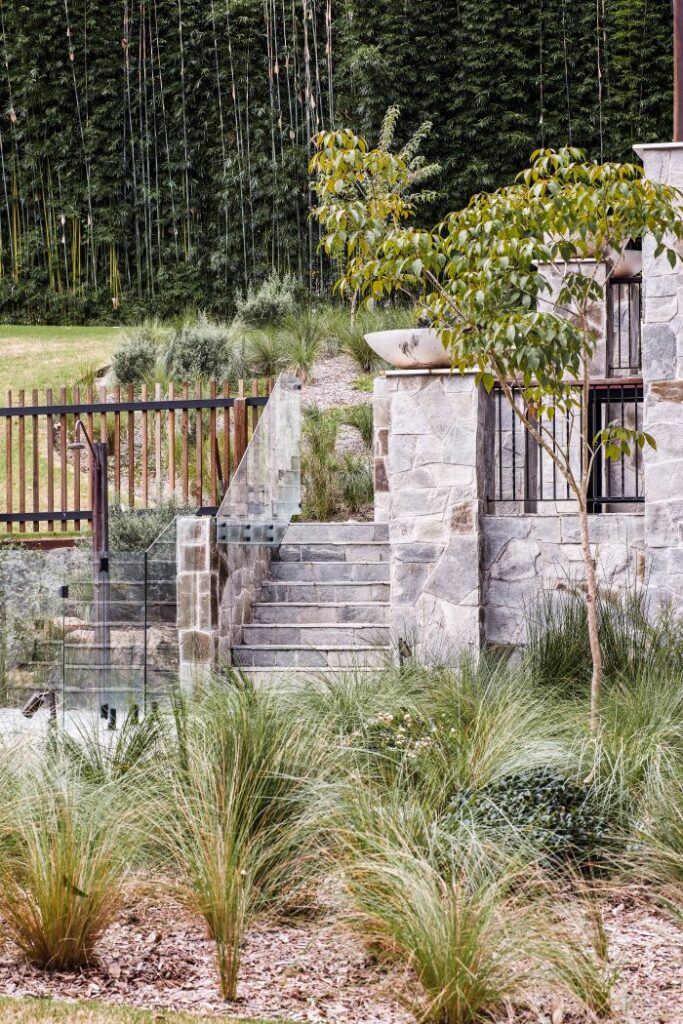 Stepping through into a lobby space with soaring ceiling, guests are greeted with an abundance of natural light pouring through south-facing clerestory windows above the entry. The lobby overlooks the Great Room, which features a large fireplace and offers breathtaking views of the natural amphitheatre and surrounding subtropical vegetation. On the mid ground level, the Great Room connects to the kitchen which includes a butler's pantry concealed from view by a staircase and dining area, while the master bedroom suite occupies an elevated position, affording privacy and picturesque vistas, each bedroom has a balcony facing north overlooking gardens and bushland.
The bathroom features a gorgeous handmade ceramic basin by Lindsey Wherrett Ceramics
The transformation of this rural property into a luxurious country lodge stands as a testament to the power of collaboration and thoughtful design. By embracing the existing topography and incorporating natural materials, Lea Design Studio has successfully blended the client's childhood dream with the beauty of the Tallebudgera Valley. The resulting home is a harmonious sanctuary that seamlessly integrates with its surroundings.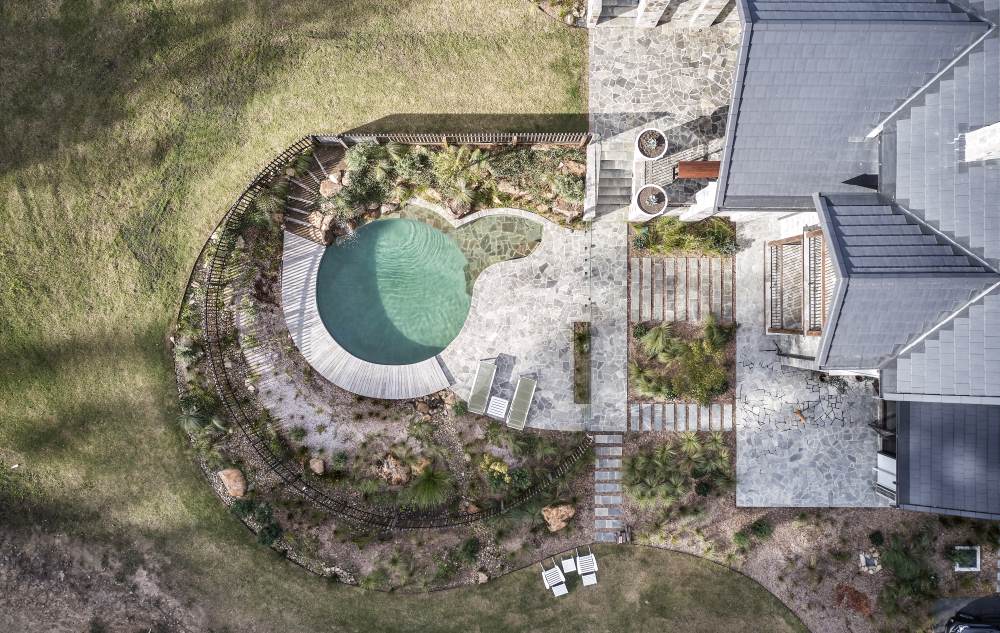 Level 13, 50 Cavill Ave
Surfers Paradise QLD 4217
(07) 56 606 176