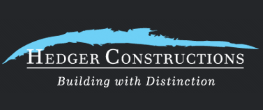 ---
With over 22 years of building experience and formed as a company in 1998, Hedger Constructions has grown to become the leading building company in Alexandra and surrounding districts. The reason for this outstanding growth is simple; friendly professional staff, quality materials and pride in workmanship in all areas of the building industry.
Hedger Constructions is a local, family based company with strong links to the community. Directors, Steven, and wife Sharon, are very much aware of what people look for in a home building and renovations and take a hands-on approach to all projects. We pride ourselves in offering a total package to suit the individual client. From our initial introductions, we can provide planning and design, completion of all documentation, assist with the selection of materials and of course satisfaction in construction and finishing. Hedger Constructions uses only quality suppliers who we have found to provide outstanding products over a long period of time. We offer our services in all forms of domestic and commercial construction, including renovations, using your designs or ours.
Hedger Constructions is a winner of 18 Master Builders Association of Victoria Awards in 8 different categories and winner of 5 Housing Industry Association Victorian & energy efficiency awards. In 2006 the company was awarded the prestigious HIA Best Custom Built Energy Efficient Home in Victoria, underpinning our reputation as innovators in design and construction. In 2011 & 2008 we were awarded Master Builders Victorian Regional Builder of the Year. We specialize in completing homes with that touch of difference and with our local district becoming a popular destination, we have taken on the challenge of some most innovative designs that are in harmony with the local environment.
The cornerstone of the company is the notion of total client satisfaction. All staff work hard to make sure that clients are fully involved in all steps of the construction process and communication is an important ingredient in servicing the needs of each individual who comes to our door. We offer full guarantees on all of our services and will be with you in any follow up to the project.
Hedger Constructions know and understand the value of referral clients and have a long list of previous clients willing to speak on our behalf in regard to the quality of our construction and the friendly nature of our company.
Fully affiliated with the Master Builders Association, Hedger Constructions looks forward to providing you with our full range of services. As a company, we love watching the satisfaction and enjoyment our constructions have brought to so many clients over a significant period of time. We invite you to share in our experiences.
VIEW OUR PROJECT GALLERIES BELOW