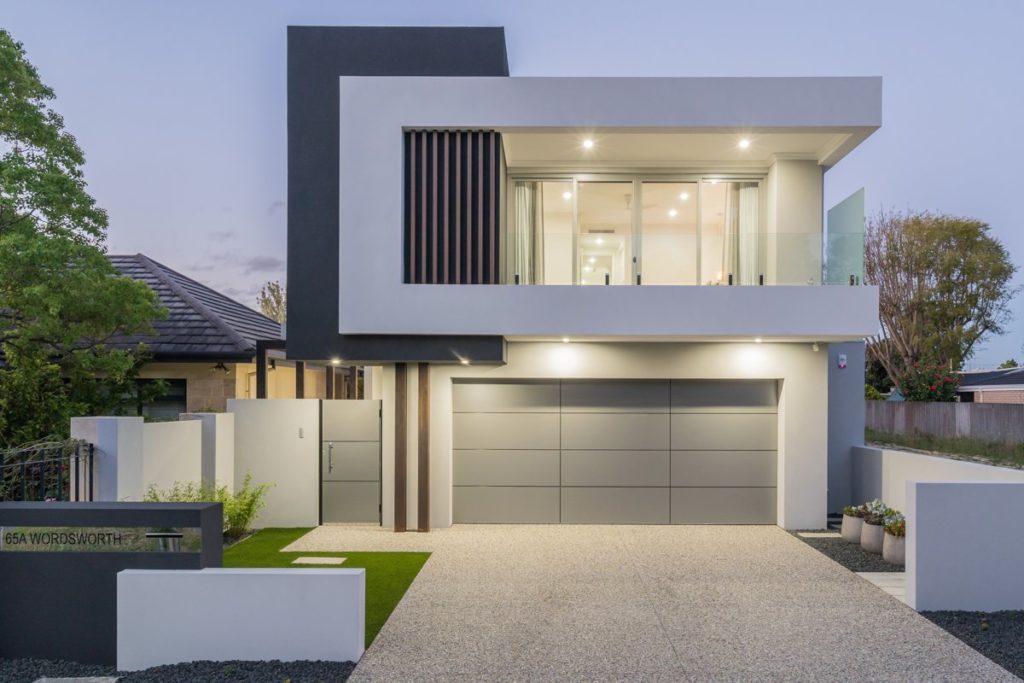 The Parkview is a striking new contemporary home, and an impressiveachievement for custom home builder, Domination Homes given an array of obstacles encountered both before and during this project. Commissioned to design and construct a four-bedroom residencewith large, integrated living spaceson an especially narrow lot of only 10 meters, Domination came up with an innovative design plan that resulted in an exceptional home that has been finished with exceptional craftsmanship and enhances the owners' way of life.
Located in a leafy street in the inner city suburb of Yokine, sleek contemporary lines and geometric forms create an eye-catching front elevation. A discreet door beside the driveway blends seamlessly with the exterior design creating a stylish visual effect and a problem solving solution. Visitors step through the door and enter an external covered corridor with sculptures and greenery to access the glass entry doorsof the home. This clever side entry was employed to maximise the narrow frontage of the home, minimise passage lengths and allow additional light into the home whilst maintaining privacy.
The long, narrow lot demanded extensive use of glazing to allow for natural lightso a wall of glass was used to separate the outdoor poolarea from the open-plan kitchen, dining and living area creating a stunning visual feature of the pool from within the home. Additionally, glass bi-fold doors lead from the dining area and billiard room to the alfresco area and glass balustrading was used on the stairway and upper balcony.
The interior palette is a sophisticated combination of white and muted greys. Extensive lacquered cabinetry in the kitchen provides ample storage whilst a scullery conceals the mess and a mirror splash back reflects the sparkling pool, all culminating in a beautiful space that is suitable to entertain guests.
Despite all the obstacles, which also included access issues due to the busy road, the resulting home is light, bright and remarkably spacious with integrated interior and exterior living spaces that are ideal for West Australian living. The home incorporates over 450 sqm of living area includinga 4 bedrooms, 3 bathrooms and a home salon.
OPEN BY APPOINTMENT
Call: (08) 9262 7400