Building a new home for a young edgy family in an affluent traditional suburb with extensive heritage precincts and a pervasive cottage street aesthetic, required some remarkable design considerations to ensure a perfect blend of classic and contemporary. This remarkable Weststyle home successfully achieves this challenging brief creating an eye-catching, unexpected exterior that follows current trends whilst maintaining a timeless design and blending harmoniously into the surroundings, and an interior with a distinct urban edge and a slight art deco twist to some elements.
The home sits on a tight piece of land and every inch of the block is judiciously used to create a home that is both spacious and light yet has practical privacy. The house is separated into two buildings connected by a galley. The front building, a formal sitting room with sophisticated custom stained timber parquetry flooring and high raking ceilings with curved corners, is simple in form but highly complex in detail both internally and externally. The three-dimensional façade is constructed entirely in dark feature brick extending up the walls and over the roof in an uncommon and tricky application that is striking in its application and results in the effect of a solid brick house. Four equal walls and tall triangular shaped roof encapsulates the innocent child-like drawing of a house imbuing this home with an elusive yet enduring optimistic youthfulness.
Journeying down the gallery to the second "building", strategically placed windows offer glimpses of the alfresco and pool before wrapping around a curved corner into the main kitchen meals and living area.  A hidden study and feature garden creating an open space that embraces natural light and greenery.
Opening onto the alfresco and pool, the main kitchen maximises natural light and blurs the lines between outside and inside. This sense of light and space was crucial to the new owners so visual access is ensured to all extents of the property from each living space and greenery is visible from all aspects of the home with courtyards and small gardens dotted throughout.
The young modern owners are busy yet love to entertain so practical and low maintenance finishes are evident throughout with polished concrete flooring, reconstituted stone benchtops and timber features to give the space warmth and character.
Upstairs, a master suite with ensuite, two minor bedrooms, a bathroom, casual sitting room with kitchenette and a neatly designed study desk area complete this skilfully considered and executed contemporary yet timeless home that blends perfectly into its traditional yet trendy highly sought-after suburb.
The room almost glows from within and the light playing through the front brick screen adds practical privacy without compromising natural brightness. A definitive window seat, punching out and cantilevering over the compact, deep concrete pool is the perfect reading spot and allows natural light to flood the space.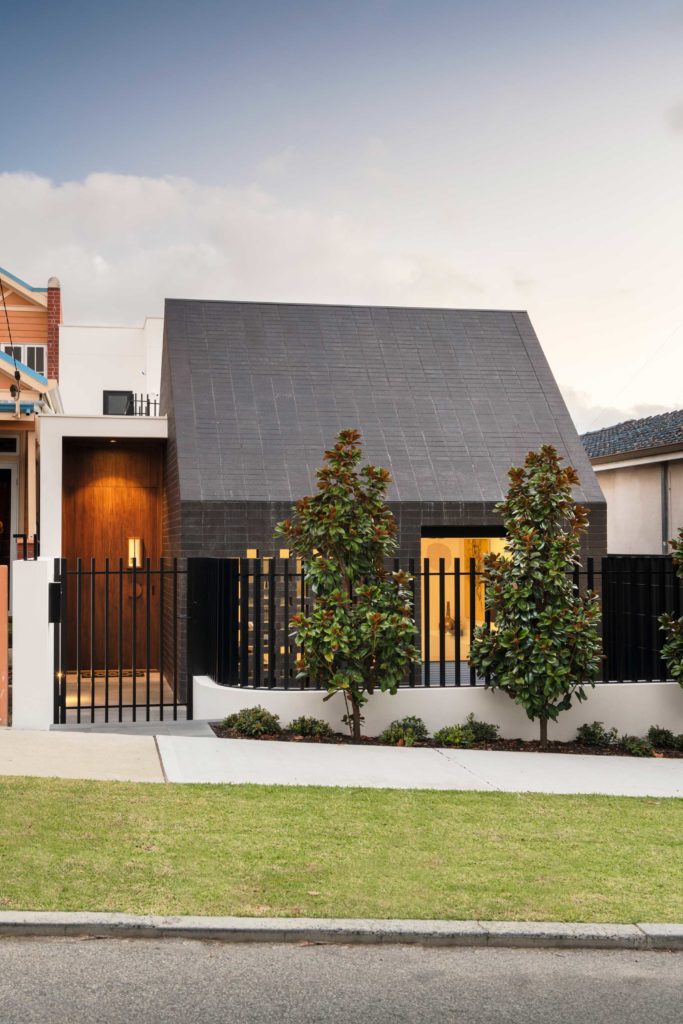 This home is just one of the many extraordinary homes featured in our luxury homes yearbook – Custom Homes Western Australia. Get your collector's edition here.