In the heart of Queensland's beautiful Sunshine Coast, this magnificent double-storey luxury home design by Chris Clout who is renowned for resort style homes, offers its owners a luxurious and private retreat that could be anywhere in the world.
The surrounding suburban environment dictated the home's design as the owners wanted a sheltered and relaxing sanctuary. The result is a seamlessly contained, centre-focused home that is a live-in haven offering a resort-style lifestyle in suburban Queensland.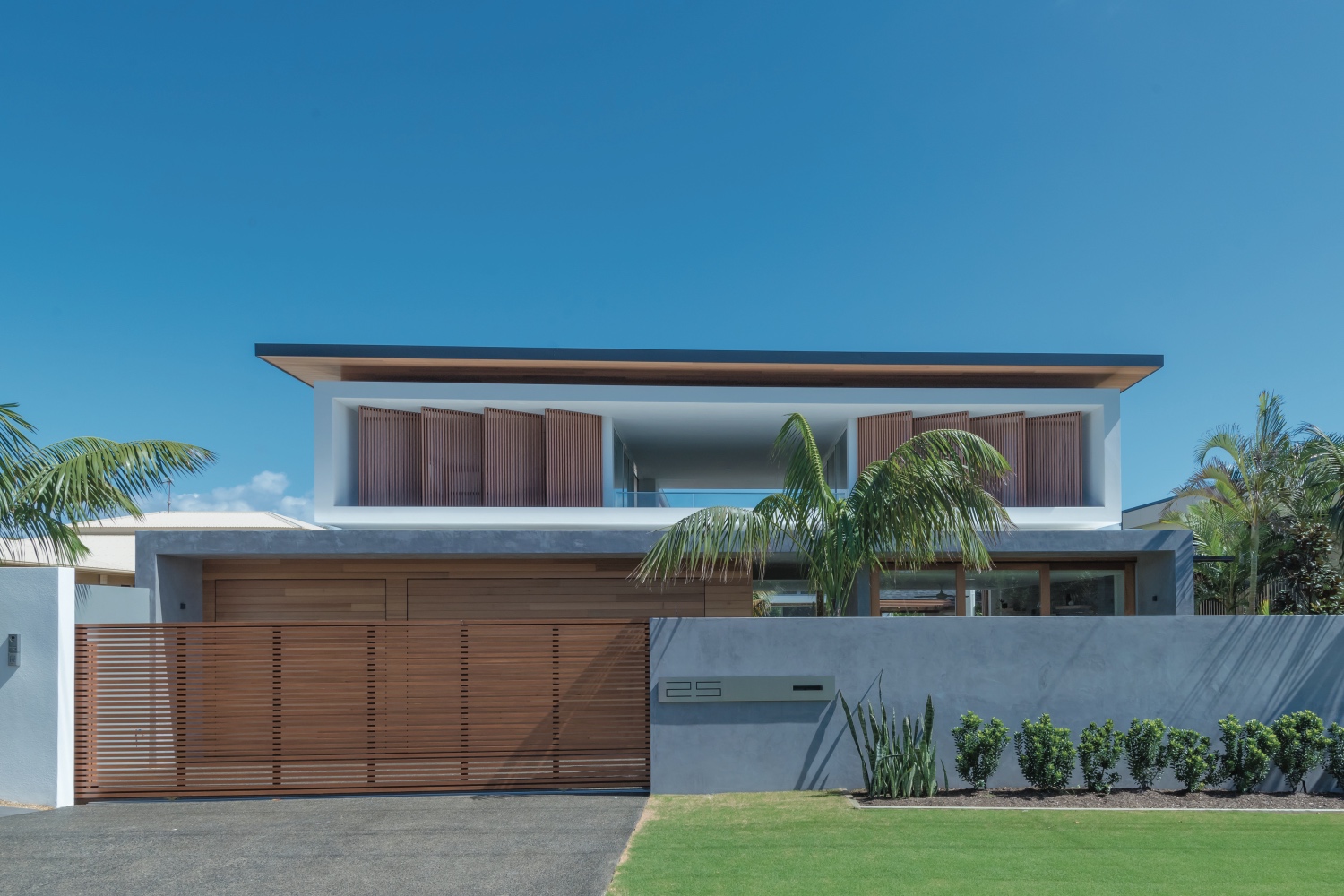 A central courtyard, with a resort-style pool, alfresco and full outdoor kitchen is the main focus of this lux family home and the rest of the floorplan is designed around this feature outdoor space.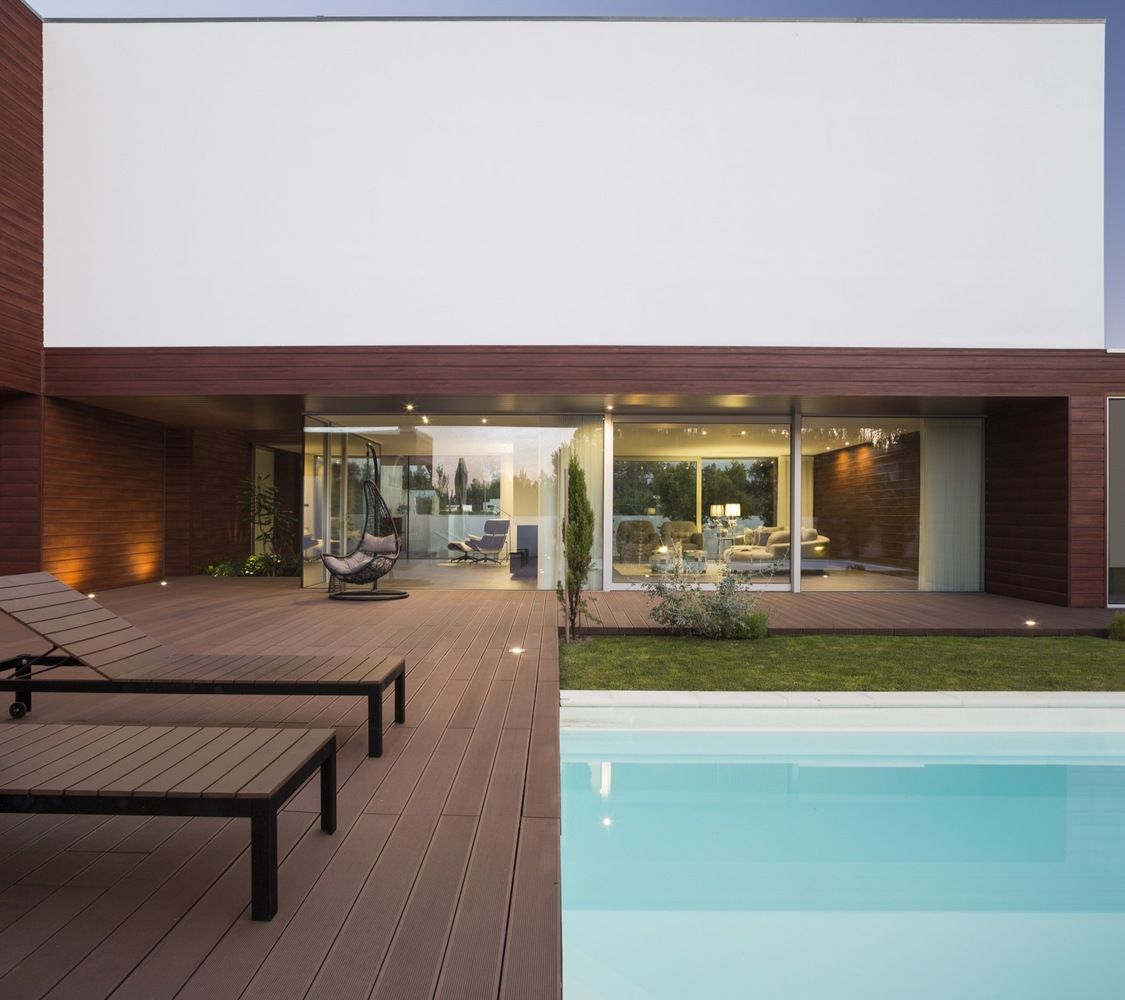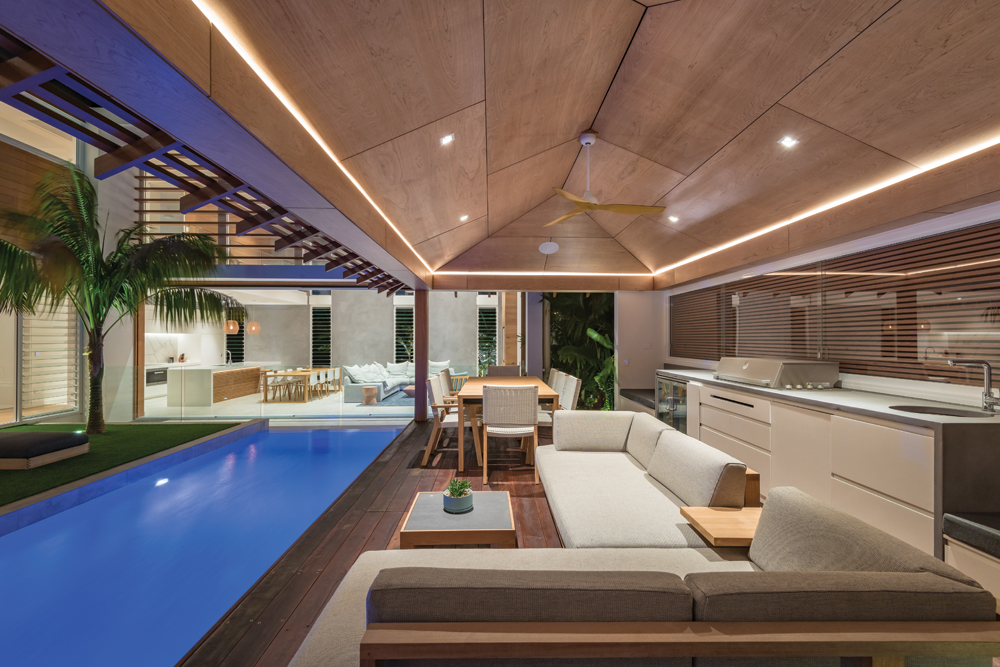 Internal sliding feature doors on recessed tracks combine with exterior sliding doors that open up the enticing family room to the front gardens and rear pool area, creating a seamless expanse of entertaining space.
In the kitchen, the clean white cabinetry and cantilevered stone bench is complemented timber adding warmth and interest. A fully equipped scullery off the kitchen enables the open plan area to remain clutter free.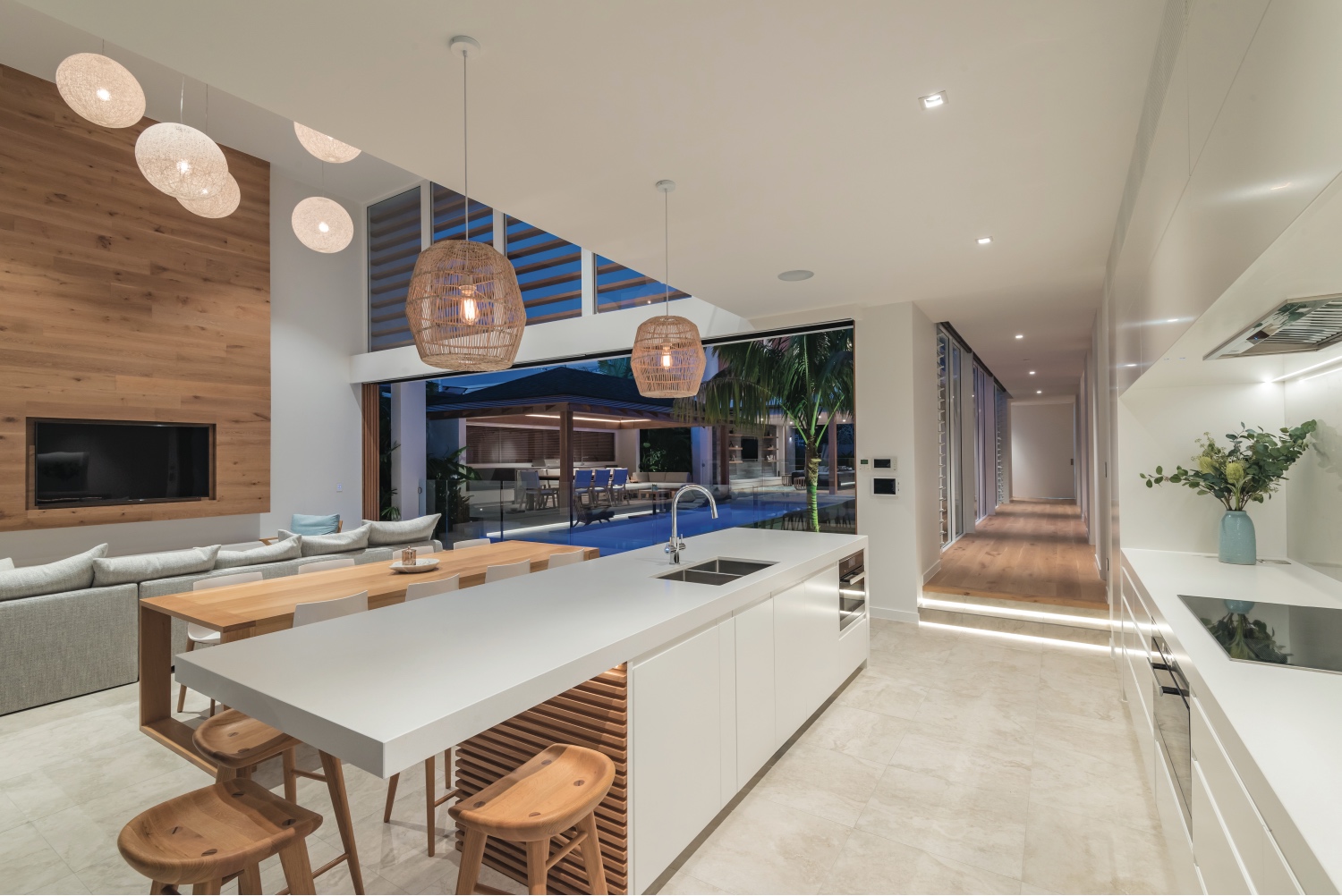 In the courtyard the Fijian plywood ceiling of the outdoor living pavilion has been highlighted beautifully by expertly placed LED lighting. Asphalt shingles complete the holiday feel.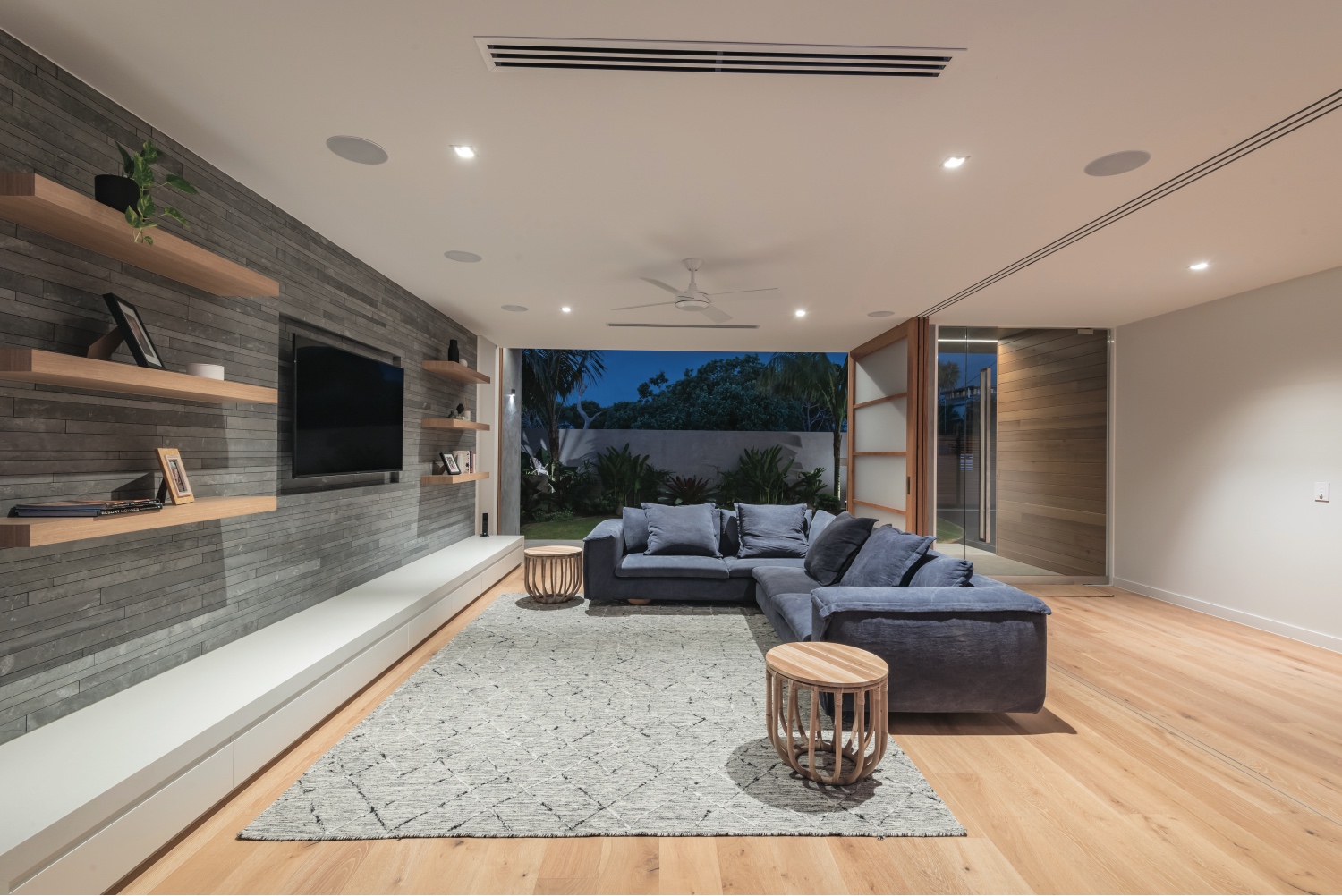 Timber look aluminium screening throughout provides an abundance of privacy, distorting the sight of onlookers from the street, whilst blending tastefully into the home's seaside context. A concrete look render on the boundary fence, completes the abode's coastal appeal, ensuring a building that truly belongs in its setting.
Four bathrooms, a study, a home office, a fully equipped gym, laundry and triple garage complete this comfortable 500 square metre home, which has been finished with exceptional detail– delivering a luxurious resort-style paradise.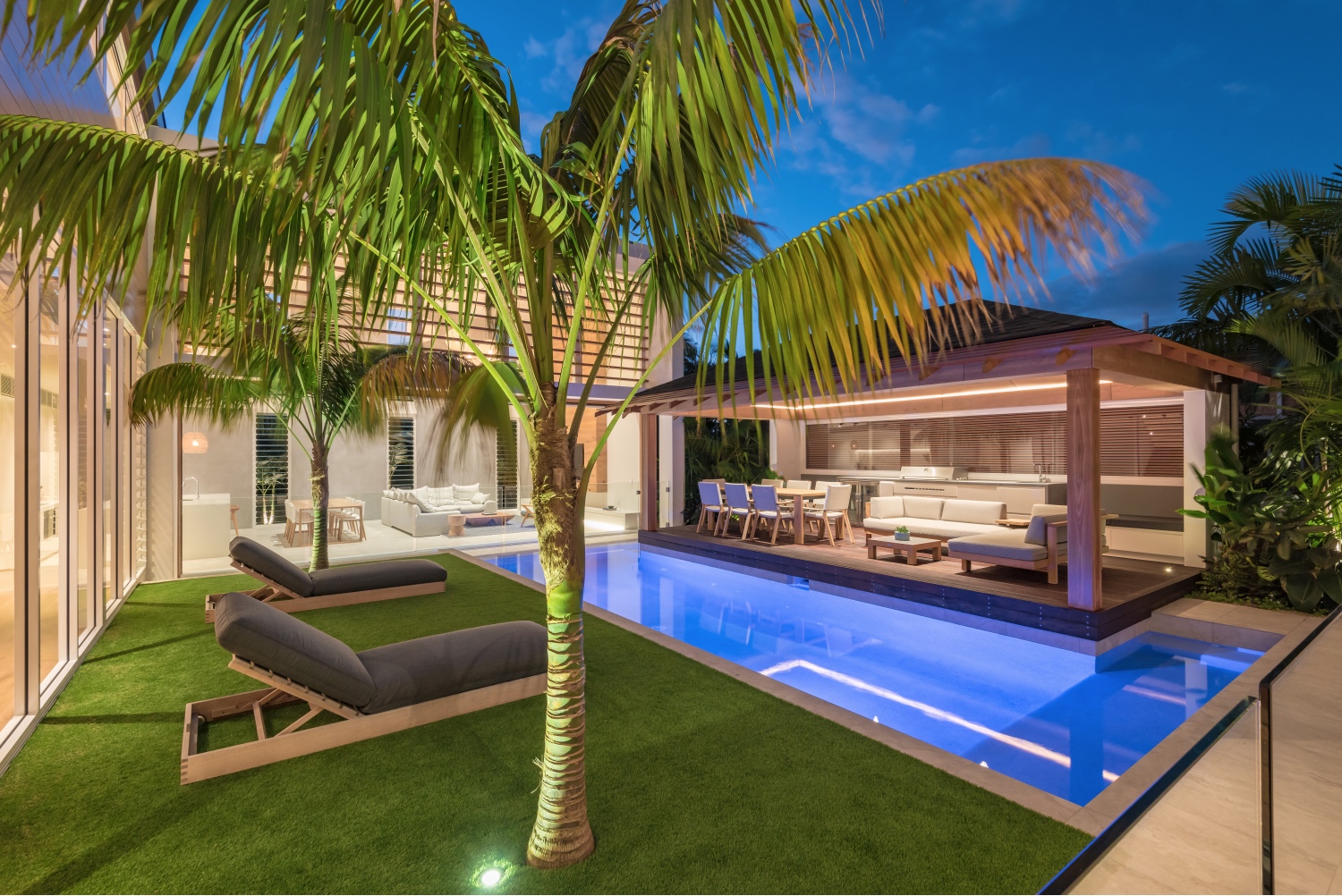 This extraordinary resort-style custom home on the Sunshine Coast is just one of many luxury homes featured in our luxurious coffee-table style Yearbook – Custom Homes.