With an enviable riverside location overlooking Perth's stunning Swan River and an existing home with 'good bones', the owners of this Mosman Park residence made a decision to renovate and extend rather than rebuild in order to accommodate their young family and bring the home up to the level of style and sophistication they desired. No renovation comes without its challenges for the builder, but with the additional difficulties of working with an elevated site which also backed onto a cliff-face and restricted access which made it extremely difficult to utilize heavy machinery, the sensational outcome of this project is all the more impressive and a true credit to the expertise of builder Adrian Zorzi.

Maximizing the spectacular river views was obviously one of the key objectives of the project. A third storey was added to accommodate the sleeping quarters including a stunning master suite which is separated from the remaining three bedrooms by a family sitting room. Due to the difficult access, low maintenance Equitone cladding was chosen for the exterior upper level walls. This is fixed on a studwork structure requiring a high level of skill and workmanship to install.
At mid-level a considered floor-plan flows through a series of interconnected rooms from the rear of the home to the expansive terraces overlooking the river – separated only by a striking staircase and a sophisticated bar area concealed behind sleek timber cabinetry.
For continuity, stone flooring has been used throughout, flowing from interior to exterior spaces and creating an expansive and impressive area for entertaining, further enhanced when the home is opened up to the waterfront terrace.
In the kitchen integrated cabinetry that conceals appliances creates a sophisticated, minimalist aesthetic whilst combining with luxurious materials including Pantheon stone to the island bench which was book-matched to create a seamless finish.
Over the three levels, the home incorporates  661sqm of luxury living including a double car garage, study, bathroom and cloakroom on the lower level, a powder room, the main open-plan kitchen, dining and living area, a formal sitting room and playroom on the midlevel and four bedrooms on the upper level.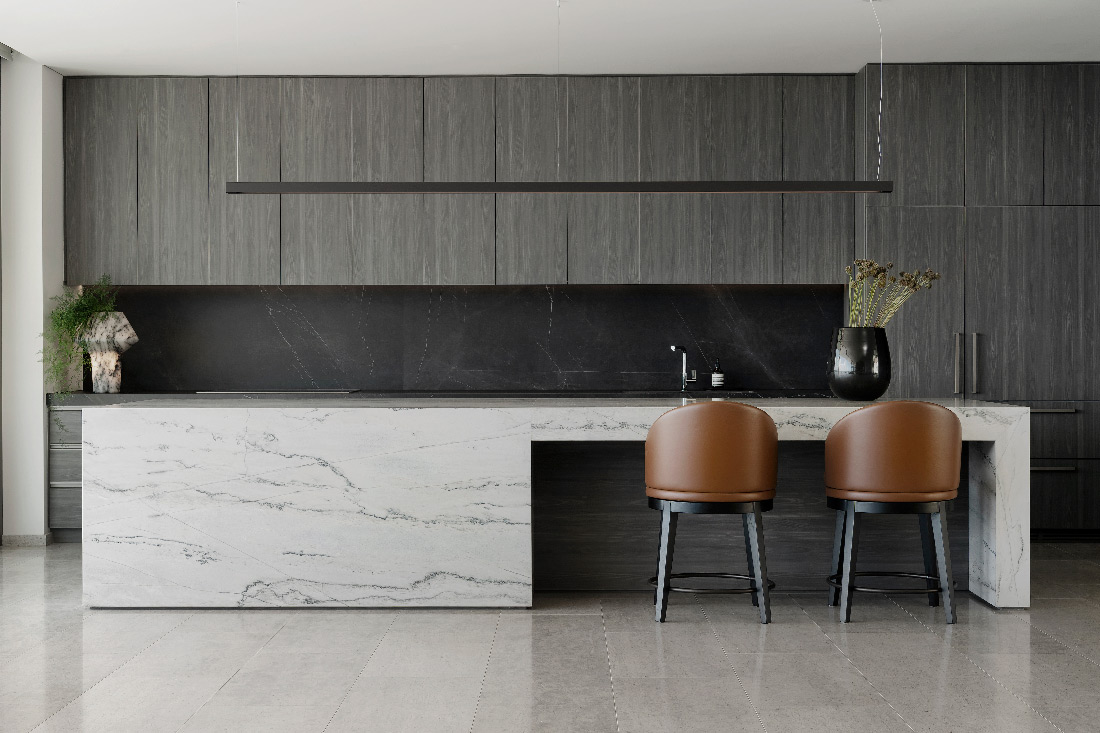 Extensive glazing allows for visual continuity from the rear garden right through to the stunning river on the opposite side of the home.
To accommodate a children's play area, the existing swimming pool was removed and a new pool installed with a travertine clad wall and custom made steel water feature.  Visible from nearly all spaces, this serves as an important backdrop to the home, expressing the cliff face into which the home is nestled and anchoring the house at this point in contrast to the openness and loftiness that is experienced on the other side.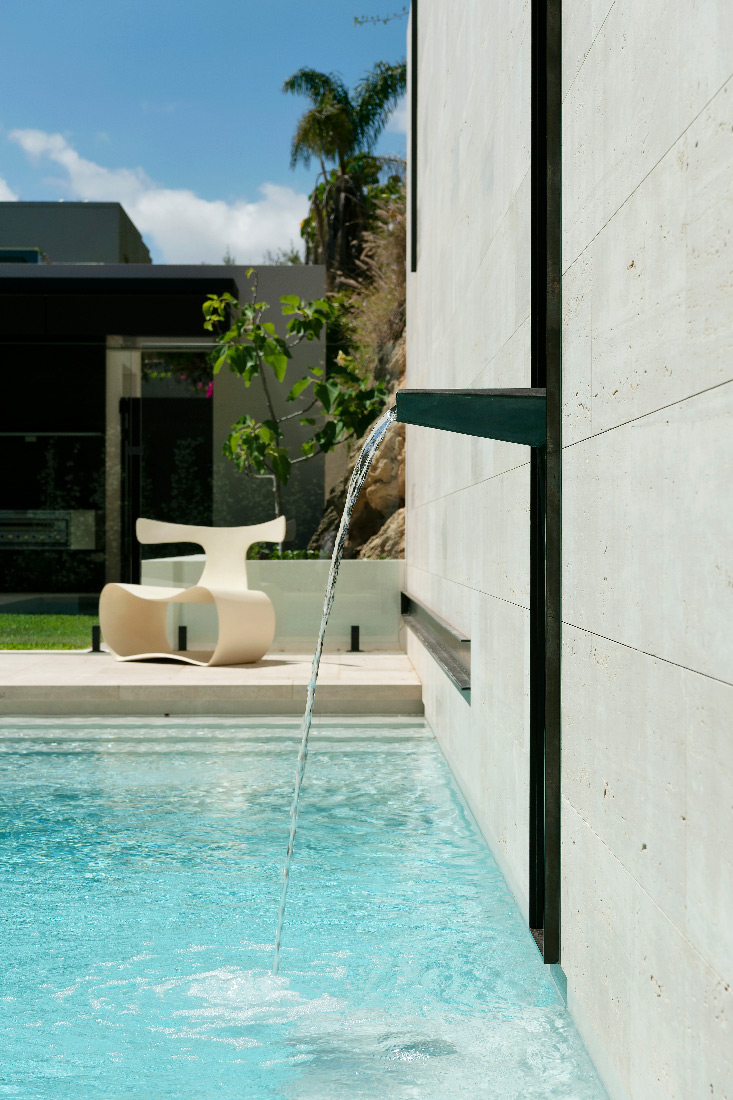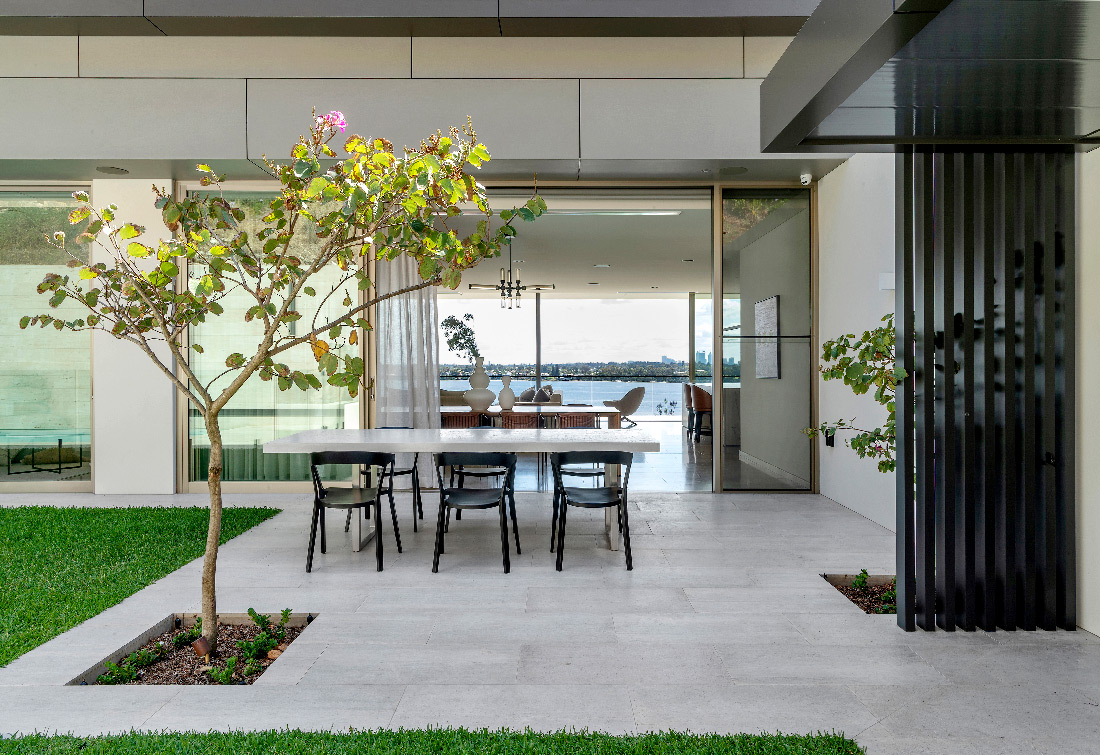 A Level 1, 29 Napoleon Street, Cottesloe WA 6011
P 08 6555 3250
E Adrian@adrianzorzi.com.au
W www.adrianzorzi.com.au
I @adrianzorzi
See more luxury custom home features by Perth Custom home builder Adrian Zorzi