With recycled hardwood battens covering its entire exterior, this North Bondi sustainable beach house by multi-award winning, Mardini Constructions, grabs your attention as soon as you see it. From a distance its box like shape looks to be a modern concrete construction but as you draw near, the natural lines and varied tones of the timber imbue a an organic softness to the otherwise imposing property, reflecting Architects, Collins and Turner's vision for an old-fashioned tea chest or weathered driftwood washed ashore on the beach.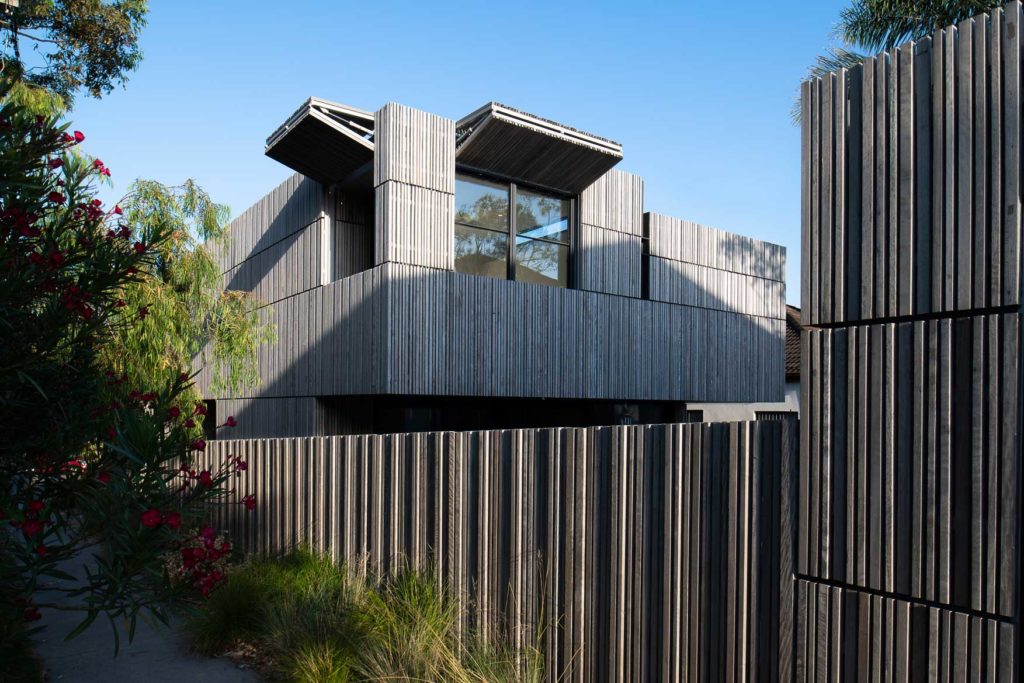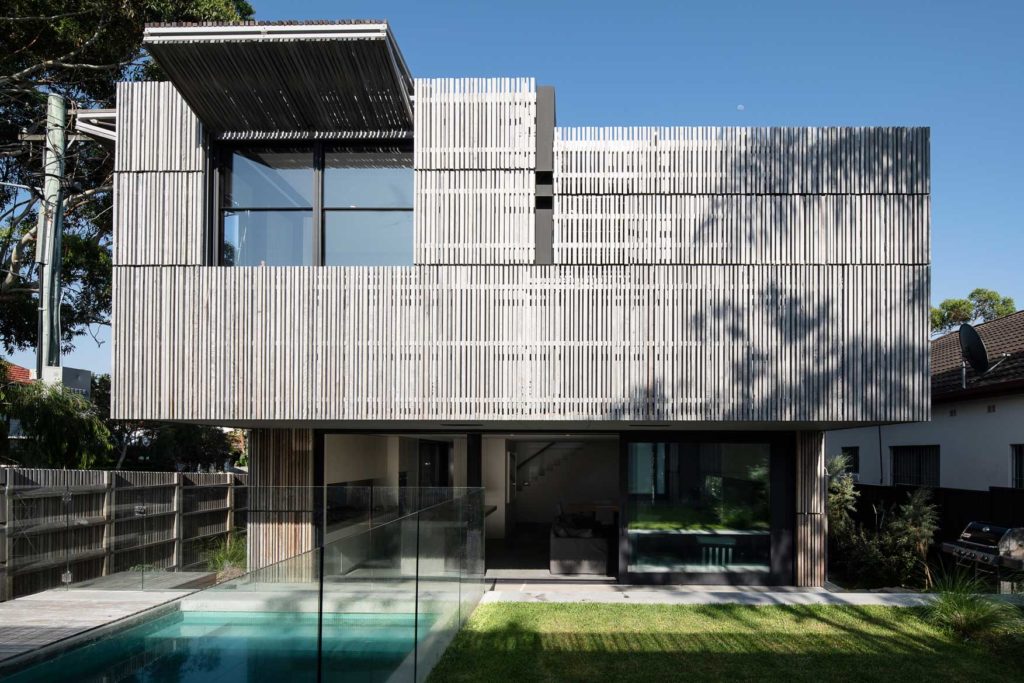 Appearing to have only one opening, the structure is rather intriguing. Acting as privacy screening as well as shade and insulation the timber batons that are a mix of various timber species, widths and depths, to provide a seemingly random and aged look conceal most of the window and door openings giving the home a sculptural like appearance. Hydraulically actuated, it is not until you see the screens effortlessly lift open that you can truly appreciate the masterful construction of this home.
Throughout the home has been built with optimal energy efficiency in mind, including lining of interior walls with 13mm thick acoustic rated plasterboard, 'Low-E' type thermal performance glass all round and a roof garden built onto the separate garage and studio area. This provides natural vegetation while also delivering exceptional thermal insulation.
Water efficient fixtures were installed throughout the home, including '6 star' rated taps in the kitchen and bathrooms. A 1,000 litre rainwater tank collects water for the gardens and topping up the swimming pool which also a 'liquid pool blanket' to minimise water loss through evaporation and reduce heat loss.
Internally, robust materials that include polished concrete floors, spotted gum detailing and charcoal stained cedar joinery and window frames were chosen to suit the coastal location. The ground floor is an expansive open-plan design which has a wonderful sense of space and light that is further enhanced by an upper floor void and overhead skylight that floods the home with an abundance of natural light.
Other energy efficient features of this unique property include a solar power system that generates 1kw of electricity for the home and pool heating system and LED lighting throughout, including cleverly hidden strip lighting in the staircase handrail that negates the need for other lighting and ensures safety when heading downstairs for a midnight snack. The interior has also been designed to promote cross ventilation which is so efficient that there is no air conditioning required at all.
This outstanding home was built by multi-award winning Mardini Constructions, renowned for their reputation of delivering outstanding results in both complex rectification works and challenging and difficult projects. Led by Master Builder and Director Elvis Mardini, Mardini Constructions have an impressive portfolio that features some of Sydney's most spectacular homes.
This stunning home by Mardini Constructions was featured in our 2019 luxury homes annual CUSTOM HOMES. 
See more extraordinary projects from multi-award-winning custom builder Mardini Constructions.