The brief for this riverside home by LUXUS Homes & Tim Wright Architect, called for a build that was both daring and extraordinary. With a prestigious water's edge building site in Applecross, the clients requested a unique 'yacht-like' abode, built using concrete.
Although the premise of a concrete house elicits strong reactions both for and against, the client's love of the material's great strength and tactility led them to request using it in as many forms as possible throughout their new home… and the outcome is nothing short of spectacular!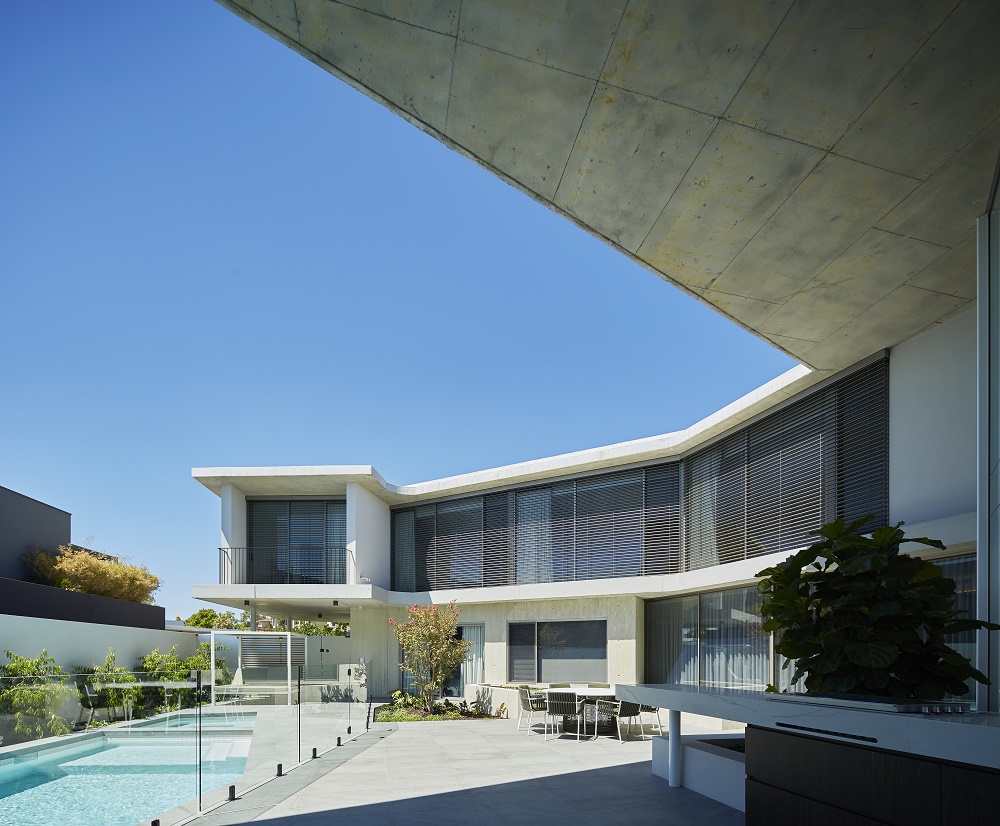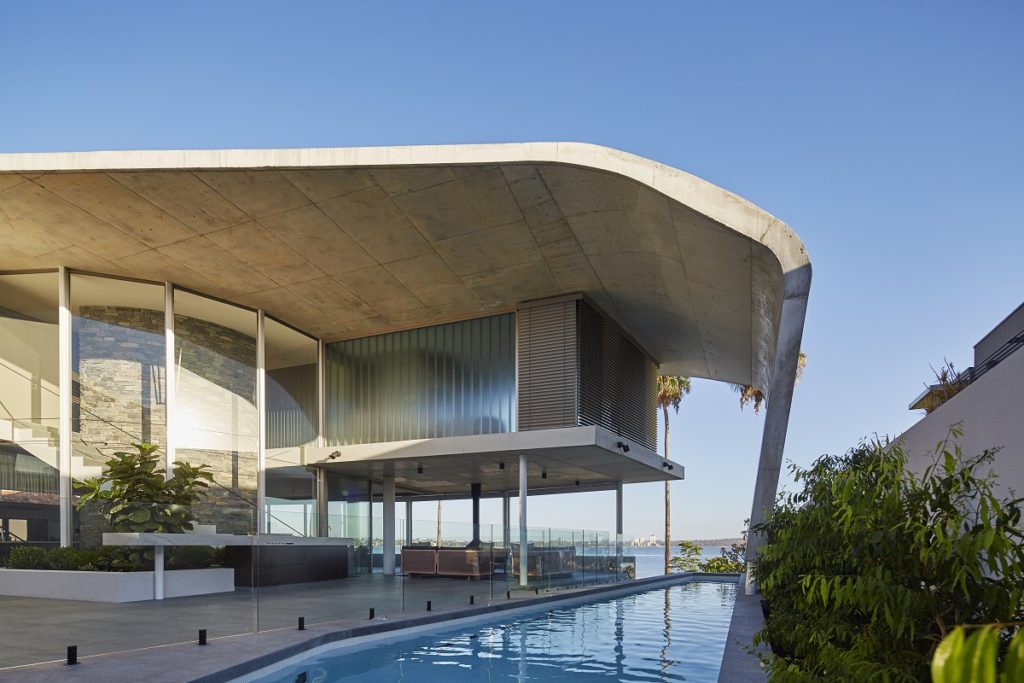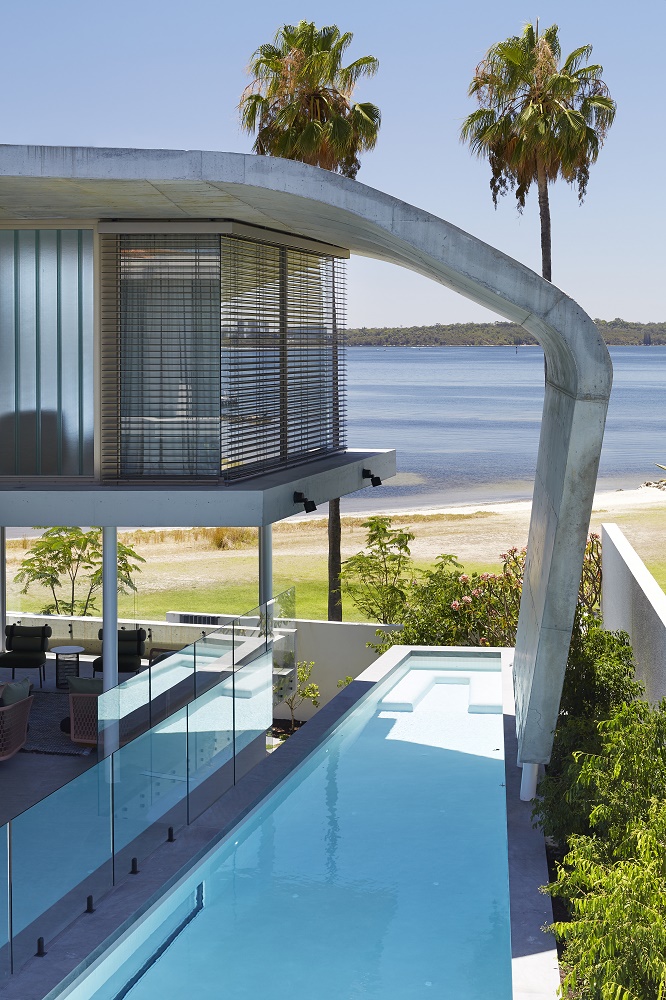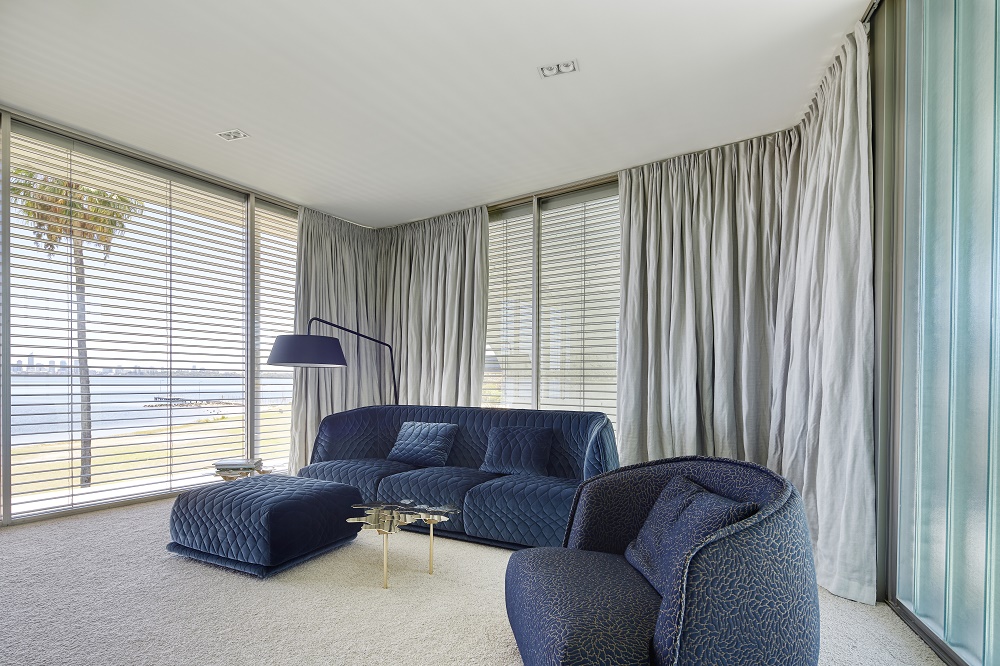 The Concrete Sail House is another successful collaboration between LUXUS Homes, led by master builder Russell Manger and director Jarrad Cranston and Tim Wright of Tim Wright Architect. Five years in the making, the architect and builder felt blessed to work with daring and trusting clients to create something truly extraordinary. Designing a beautiful structure that was functional as well as 'over the top' and 'dramatic' was a challenging brief, says Jarrad.
"Working with someone who trusts you is really rewarding because you can try different things. They fully back your vision, then together we see it built and realised. We love that". As with their other projects, open discussions with client, builder and architect filtered through all levels of the design of this unique home. Exploring the full range of concrete's potential, they emphasised the dramatic quality of the material by enhancing it in some areas and contrasting it in others. The goal for the Concrete Sail House was to create an experience that takes
visitors on a journey of emotions from austerity to composed serenity as they move from space to space.
The Concrete Sail House begins with a triple height entry void where the acoustics are quite resonant. However, this changes dramatically as you reach the timber cladding and acoustic ceilings of the kitchen and living rooms. Minimal in aesthetic, the open plan living, dining and kitchen is never-the-less rich in materials and textures.
In the kitchen, light Aurelius stone adorns the benchtops and is complemented by bronze mirrored splashbacks, Havana wood-grained veneer and matt black cabinetry, creating an overall look of understated luxury.
Upstairs the feel is remarkably different to the lower level living areas. As Jarrad explains, the rooms were the perfect fit for the clients' adolescent boys. "We went big and expansive in the living areas detail downstairs, up here it's all under control. It's certainly luxurious but still restrained," he adds.
The main ensuite however, wrapped in the grandeur of the Aurelius quartzite, embraces more of the qualities of downstairs. A uniquely shaped, deep walnut veneer bath and minimalist tapware complements the colour palette without taking any focus away from the unparalleled view.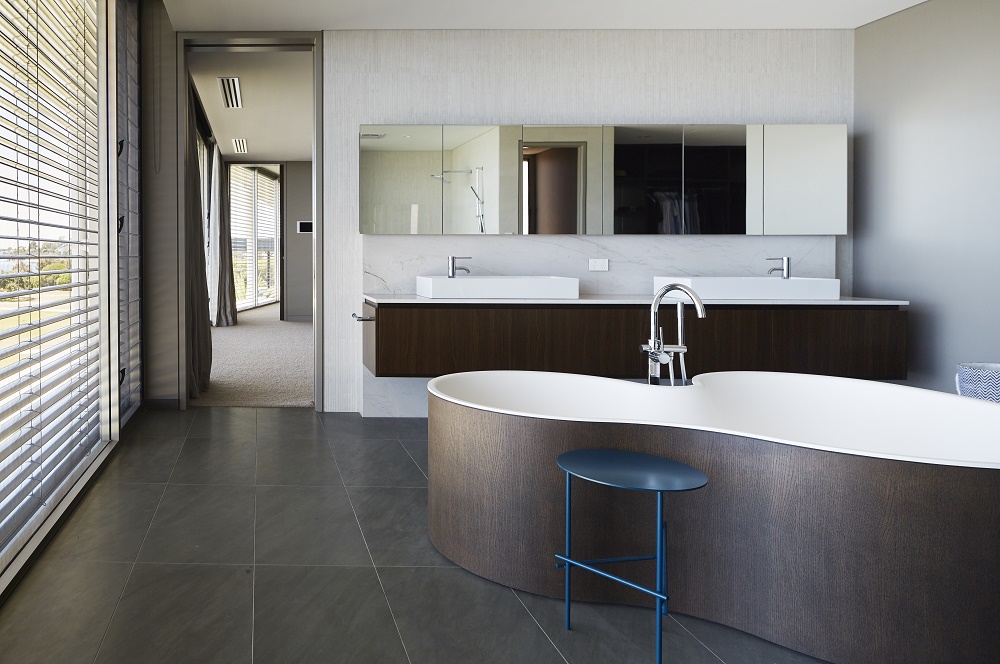 Set to ensure that this home becomes an iconic landmark amongst the luxurious neighbouring properties, is a spectacular concrete 'sail' that floats out over the first level cantilevered pool and alfresco area, creating a dramatic shield from the sun and adding to the yacht-like ambiance.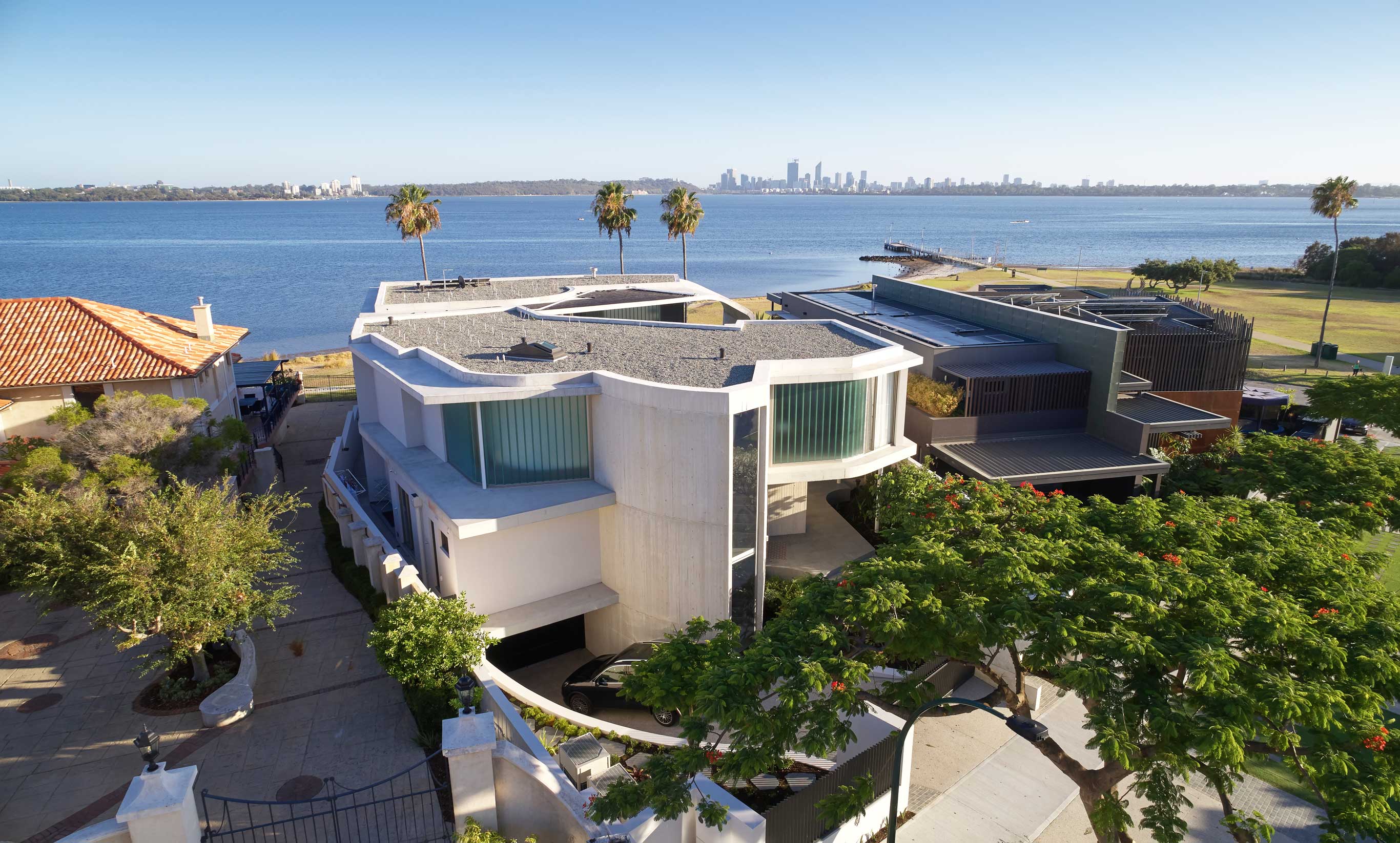 Using the initial brief for a 'concrete yacht' as a launching point from which to explore the vast potential of concrete, LUXUS Homes & Tim Wright Architect have delivered a truly extraordinary home that challenges the stereotypical austere connotations associated with concrete and surprises at every turn. LUXUS Homes is one of Perth's finest luxury home builders specialising in architectural homes across Perth and the metropolitan region. LUXUS Homes are focused on delivering an award-winning finish to all of their homes while maintaining a professional and attentive client relationship before, during and after the construction period
This extraordinary concrete custom home was featured in our 2019 luxury homes annual WA Custom Homes. 
See more luxury custom homes from Perth's Luxus Homes.