A fabulous outdoor entertaining space that can be used all year round is now one of the top priorities for those building a new home, with often as much focus placed on the plans for the exterior living areas as the interior. Working within the confines of an established home to deliver a big checklist of wants is however a little more challenging. Not however for the multi-award winning team at C.O.S Design who beautifully renovated this Melbourne backyard to create the ultimate alfresco.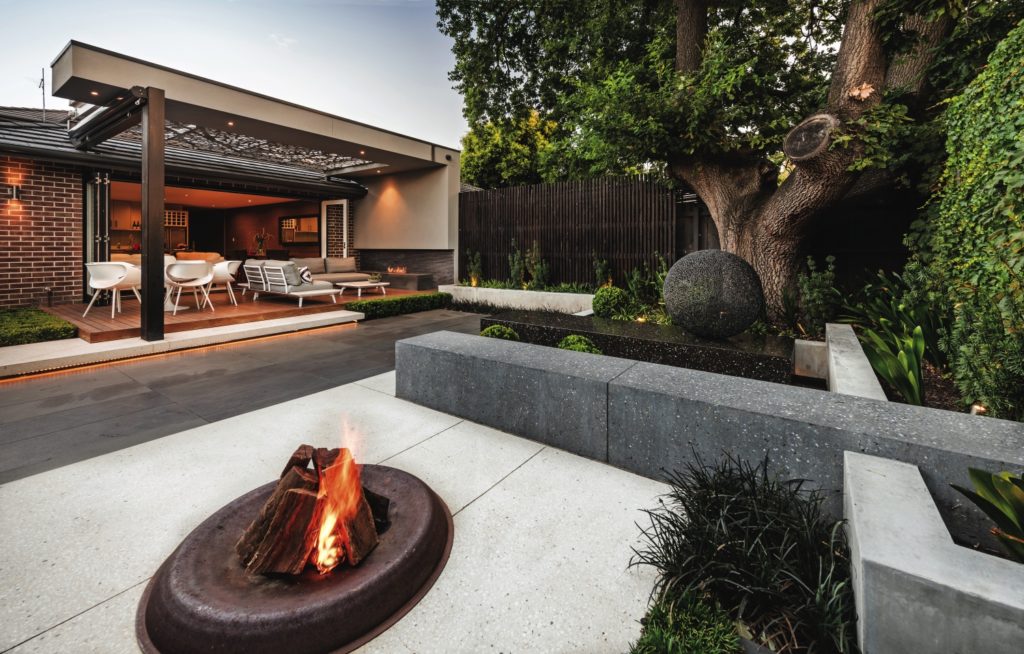 Given a very tight space initially comprising of just poor paving, low cost garden retainers and pittosporum hedges, C.O.S Design was asked to create a modern entertainers delight with everything that opens and shuts in the way of outdoor living. A flexible roof cover, fire place, barbeque and kitchen, outdoor fire pit, water feature and an open space for the kids to ride scooters were all part of the brief.
With a love for entertaining at night, carefully considered garden lighting was also an important inclusion. Fulfilling such a jam-packed brief in such a small space was a challenge further complicated by a very large oak tree, which – whilst being overwhelming in its size and domination of the space – also offered a beautiful canopy to the garden which could never be replicated by any other sort of structure or imported tree. So the tree had to stay and consequently became a significant feature around which the rest of the design – a modern aesthetic with WOW – was created.
Maintaining a sense of space, balance and simplicity required carefully considered design responses. To meet the owners' requirement for seamless indoor/outdoor integration, a covered area was created just off the rear of the home. The centre of the courtyard was kept open, clear and functional, becoming a transition space between the various outdoor space yet still allowing room for the children to play, ride scooters and just be kids. It also offers sufficient space for larger gatherings to spill out into the courtyard and a lovely area to move the table to from undercover to the open sky on a nice day. The central paved open area, surrounded by beautiful features, keeps the space clean and flexible whilst maintaining a warm, cosy and inviting feel.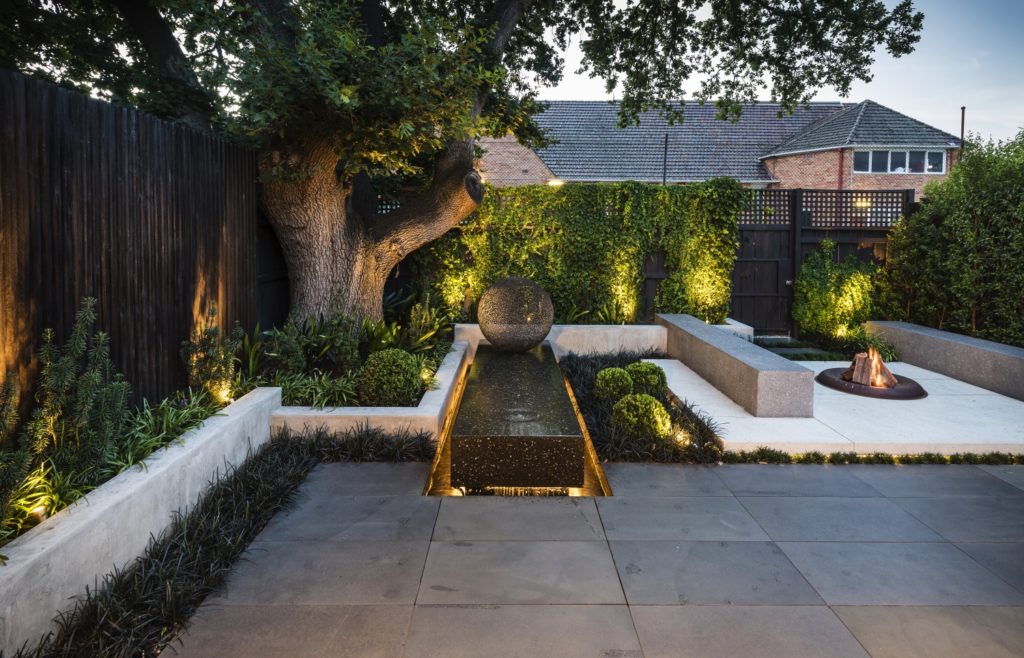 The resulting crisp yet welcoming space perfectly suits the personalities and brief of the clients. Overall the design is aesthetically powerful whilst embracing a versatile functionality.
C.O.S Design is one of Australia's most awarded landscape design companies, with over 100 awards to their name. C.O.S Design has an extensive portfolio of work in some of Australia's finest properties, and more recently internationally, consistently delivering beautiful spaces of the highest calibre.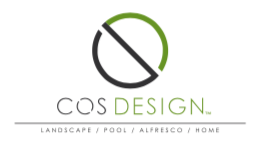 392 Burke Rd,
Camberwell VIC 3124
ph: (03) 9889 3329
www.cosdesign.com.au
This luxury custom home was featured in our Custom Homes Yearbook 2019.