Shortlisted for a World Architecture Festival Award, this unique custom home by CplusC arose as a result of the challenging privacy issues of the client's narrow building site in  Sydney's North Bondi.
Surrounded by double storey houses and low-rise apartment buildings that overlooked the lot, their the desire to create a family home that enhanced Sydney's indoor /outdoor lifestyle required an innovative solution. The result is a home surrounded by a 'Living Screen' of custom designed, fully reticulated vertical garden beds, serving multiple purposes;  adding privacy to the home from the street and neighbouring properties, filtering natural daylight into the home and creating a 'green' outlook for the occupants.
The somewhat industrial appearance of the exterior of the home is continued inside with a minimalist aesthetic and concrete, floors, walls and ceilings.  However extensive use of timber throughout imbues the home with a sense of warmth, creating an inviting space for relaxed family living, perfectly matching the surf-loving,  Bondi lifestyle of the owners.
On the lower floor, a flowing open-plan design creates a spacious environment to entertain guests, whilst custom-designed bench seating and bar have been built into the sleek galley kitchen to faciliate social interaction whilst preparing meals. Upstairs the master suite includes a spacious resort-style ensuite with free standing bath and feature timber on the ceiling.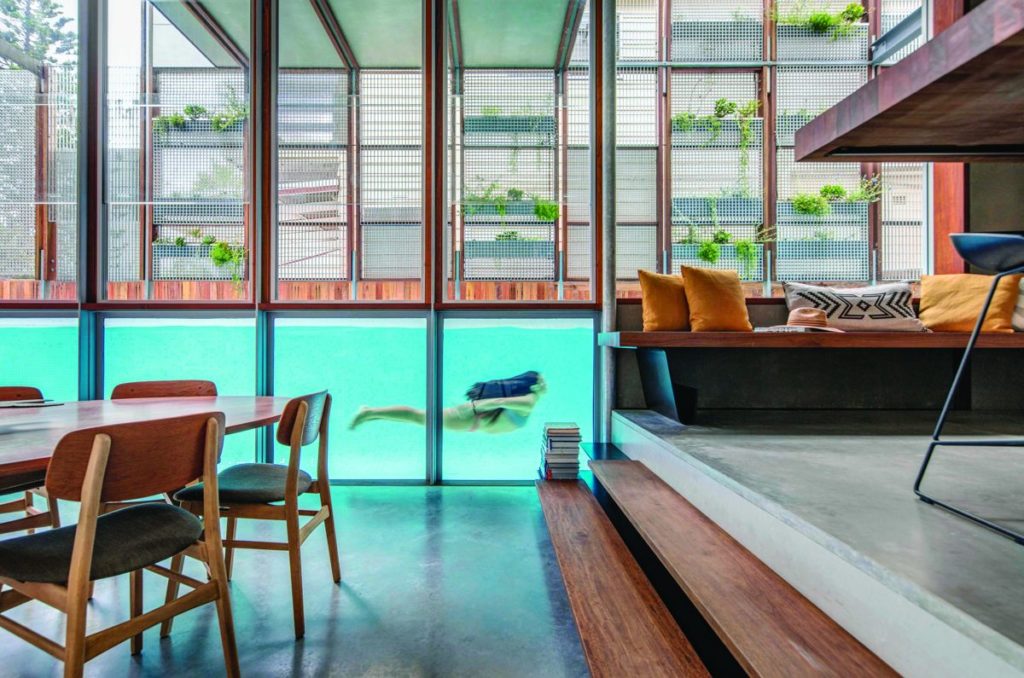 Another spectacular feature of this unique home is the lap pool which integrates seamlessly with the interior of the home thanks to a glass wall on the interior side. The design again facilitates interaction with those inside as well as filtering natural light and creating a stunning visual focal point inside the home.
With an emphasis on passive solar design, the home features predominantly raw, low embodied energy materials throughout including unfinished cement, bonded wood composite boards, burnished concrete, expressed timber, COR-TEN facade and steel and timber columns that celebrate the structural systems in the house. It also has a large rainwater storage tank and a massive 10KW solar system on the roof.
LED lighting in the exterior garden beds create a stunning ambiance at night whilst highlighting the unique architectural aspects of this incredible home. 
This unique Sydney Custom Home is featured in the 2018 edition of Sydney Custom Homes magazine – a showcase of leading luxury home builders in Sydney.