In the middle of a very busy street in Hiroshima, Japan there is a house that is an exceptional example of how creative design can overcome the most challenging design briefs.
The Japanese are known for their minimalistic approach to architecture and design and Hiroshi Nakamura & NAP went for this exact style when designing the "Optical glass house". It's located in the middle of tall buildings in downtown Hiroshima yet from it's interior the home has a beautiful green outlook that is completely unexpected.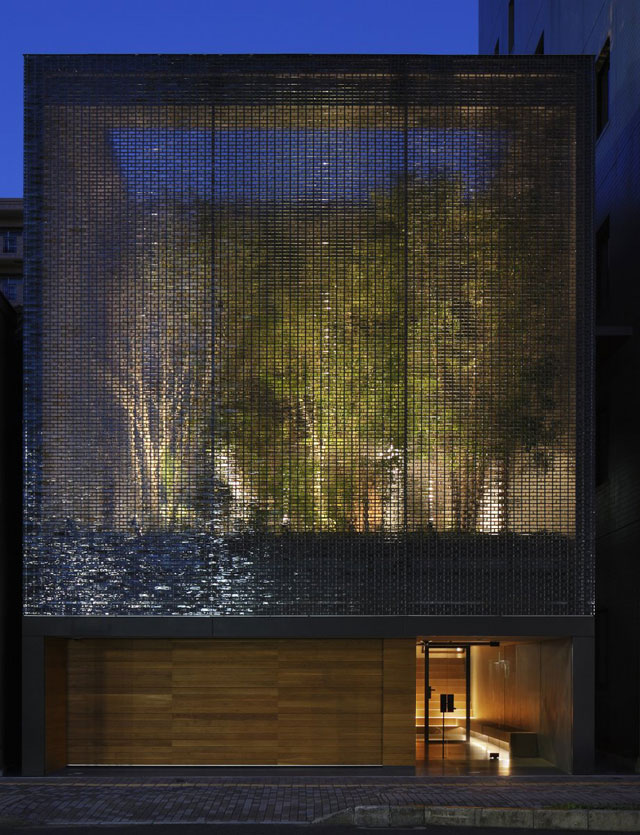 The house has a total of three levels, the main entry being located street level where you can access the home either by the striking timber garage door or by a glass pedestrian doorway. A large water feature, a pond that reflects the light in interesting ways greets you on the inside and provides a hint at what else you may find inside this unique home. 
Inside the use of timber adds warmth to the minimalist aesthetic and the two upper levels are connected by a spectacular open garden, complete with mature tees that provide a sanctuary and sense of separation from the bustling city outside.This is where the real feature of this extraordinary home is apparent, the entire facade of the home is constructed of 6000 pure glass blocks. The blocks allow an abundance of light to enter the home, making it airy and bright and providing sunlight for the interior garden whilst also soundproofing the home and sheltering it from the outside world.
This house goes beyond its main purpose of providing comfort for the people living here, it also commands you to take your time and experience it, to walk through and relax for you're being protected from the noise and chaos that is every day life.